One of the best ways to support The Chronicles of Crosarth is, frankly, to buy stuff. This page lists where you can buy any and/or all official materials for The Chronicles of Crosarth.
Print Collections
---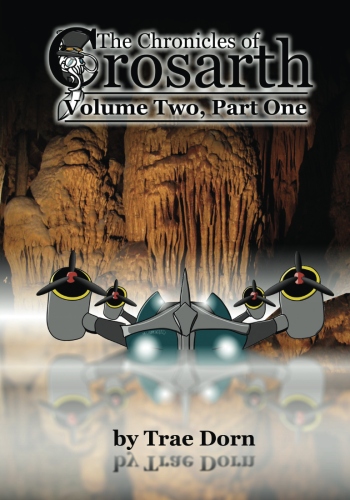 The Chronicles of Crosarth
Volume Two, Part One
Unlike Volume One (which saw a release of five books, followed by a compiled edition), Volume Two is being released as two 100 page books. And this? This is the first one.
Like the Volume One compilation, this book is a 7″ by 10″ release, printed in color with a glossy color cover. I happen to think it's pretty neat.
The book includes updated cast bios, original artwork, and an updated airship comparison chart. There's not much more to say about it, other than that it costs $29.99.
---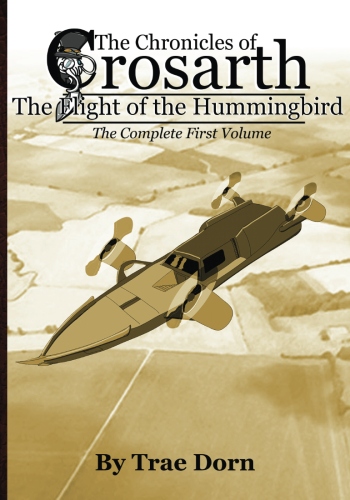 The Chronicles of Crosarth:
The Flight of the Hummingbird
The Complete First Volume
This is it. This is the print collection you've been waiting for. All 200 pages of Volume One in a single book, ready to be read. Not just that, but where the earlier releases of this material were 6″ x 9″ trades, the complete volume one is a larger 7″ by 10″ book – and we all know bigger is better.
This also includes all bonus materials which were found in Parts 1-5, including maps, an airship comparison chart, cast bios and full color original art.
If you've been waiting to buy print editions of Crosarth, this is the version to purchase.
The Flight of the Hummingbird is a collection of all ten chapters of Volume One (previously available in two chapter installments as Parts 1-5).
[ Buy it now for only $49.99! ]
---
Or you can still pick up parts 1-5 of Volume One independently:
Other Merchandise
---
You can find T-shirts and other doo dads and boo bits at the official
Cafepress store for The Chronicles of Crosarth
!